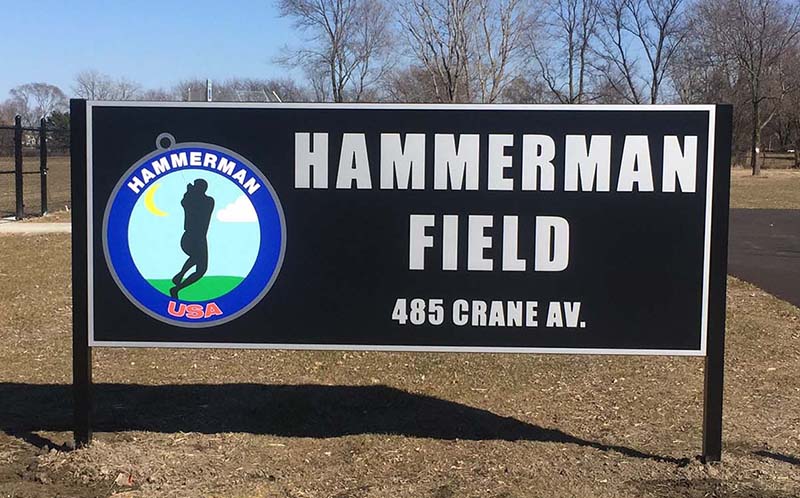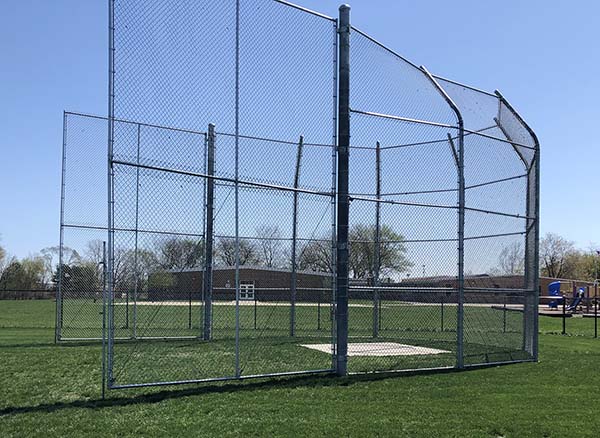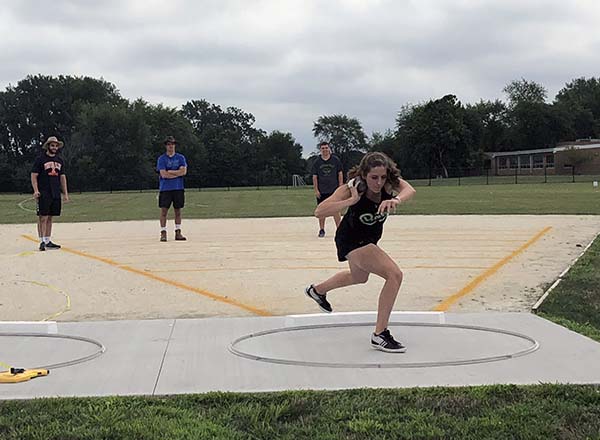 Hammerman Field in Aurora IL
Practice Field for Hammer Throw, Shot Put, Discus and Javelin
We hold all club practices and Hammerman Field on the east side of Aurora at 485 Crane Avenue, Aurora IL 60505. Hammerman Field is a state of the art throwing facility with two NCAA regulation cages, two shot put rings and a javelin field. Practices are safe and always conducted by trained coaches.
2023 Training Schedule Coming Soon
Hammerman Field is also the site for all five "Throwers League" meets during the summer. At each meet, top finishers are awarded points. The athlete with the most points in each age bracket will be crowned champion at our final meet of the season.
VIEW 2023 THROWERS LEAGUE MEET SCHEDULE
LEARN MORE ABOUT THROWERS LEAGUE MEETS
Hammerman Field Records
| Event | Gender | Level | Name | Year | Club | Feet | Meters |
| --- | --- | --- | --- | --- | --- | --- | --- |
| | | LEVEL | ATHLETE NAME | YEAR | CLUB AFFILIATION | FEET | METERS |
| HAMMER THROW | | | | | | | |
| | BOYS | High School | Ben Fiser | 2021 | Unattached | 186'6" | 56.55 |
| | | College | Luke Witte | 2020 | Unattached | 189'6" | 57.76 |
| | | Open | David Anderson | 2020 | Boas | 180'3" | 54.94 |
| | GIRLS | High School | Sydney Lake | 2021 | Unattached | 169'1" | 51.54 |
| | | College | Annabel Thorstenson | 2021 | Unattached | 152'3"" | 46.42 |
| | | Open | Gwen Berry | 2019 | Unattached | 242'6" | 73.91 |
| JAVELIN | | | | | | | |
| | BOYS | High School | Julian Juszczyk | 2020 | Unatttached | 185'6" | 56.54 |
| | | College | Brandon Loth | 2020 | Hammerman USA | 153'0" | 46.63 |
| | | Open | Alek Escudero | 2020 | Boas | 145'8" | 44.40 |
| | GIRLS | High School | Sydney Juszczyk | 2020 | Unattached | 164'7" | 50.17 |
| | | College | Peyton Panka | 2020 | Impact | 124'11" | 38.08 |
| | | Open | | | | | |
| SHOT PUT | | | | | | | |
| | BOYS | High School | Kyle Clabough | 2022 | Hammerman USA | 59'11" | 18.27 |
| | | College | Kyle Clabough | 2022 | Unattached | 49' 1" | 14.97 |
| | | Open | Nick Boesso | 2021 | Unattached | 51'8" | 15.75 |
| | GIRLS | High School | Julia Reglewski | 2021 | Boas Throwing Club | 46'3" | 14.1 |
| | | College | Peyton Panka | 2022 | Unattached | 38'6" | 11.73 |
| | | Open | | | | | |
| DISCUS | | | | | | | |
| | BOYS | High School | Sam Cappos | 2022 | Unattached | 176'11" | 53.93 |
| | | College | Matt Appel | 2021 | Unattached | 176'11" | 53.94 |
| | | Open | Marcus Gustaveson | 2021 | Unattached | 186'6" | 56.85 |
| | GIRLS | High School | Olivia Campbell | 2022 | Throw for the Road | 150'9" | 45.96 |
| | | College | Gabriella Yaccino | 2022 | Unattached | 135' 8" | 41.36 |
| | | Open | | | | | |